Tag Archives:
facepalm
Posted in

Finance, Politics, Pop Culture
Tagged

debt ceiling, facepalm, fantasy, fiscal cliff, Geitner, Hot Air, Krauthammer, McConnell, new taxes, Obama, smokescreen, what compromise?, what cuts?
Comments Off
US police raid Occupy camp in Oakland, arrest 75 – US news via Mail.com.
City officials had originally been supportive of protesters, with Oakland Mayor Jean Quan saying that sometimes "democracy is messy." But the city later warned the protesters that they were breaking the law and couldn't stay in the encampment overnight. They cited concerns about rats, fire hazards, public urination and acts of violence at the site, which had grown to more than 150 tents and included areas for health care, child care and cooking.
Posted in

Finance, Politics, Pop Culture
Tagged

cumbaya my lord cumbaya, facepalm, fire hazards, mayor Jean Quan, occupy laziness, occupy Oakland, Occupy Wall Street, pathetic, police action, protesters, public urination, rats, refuse, squatters, tents, trash, unsanitary
Comments Off
Fisker Karma Solyndra on Wheels | Fantastical Andrew Fox.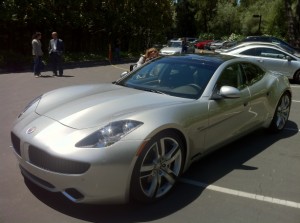 Fisker is manufacturing these gorgeous Leonardo DiCaprio toys in Finland. And the kicker, for those of you who would still claim that the risk of half a billion tax dollars is justified by environmental gains… contrary to the company's initial hype, the Karma will only run for thirty-two miles on its electric motors before its turbocharged gasoline engine needs to kick in (as opposed to the initial estimate of fifty miles). Once that occurs, the Karma gets about the same mileage as a Ford Explorer. Not the new Explorer, even. The older, gas-hog, body-on-frame model. We're talking twenty miles per gallon, folks. So much for your "green investment."
Posted in

Celebrity, Energy, Pop Culture, Technology
Tagged

Al Gore, Democrat party donors, eco-delusion, facepalm, Fisker investors, Fisker Karma, Ford Explorer, fuel inefficiency, gas hog, government malfeasance, Hollywood elitism, hybrid, Leonardo DiCaprio, self-loathing, waste of money, waste of tax money
Comments Off